Cartier Santos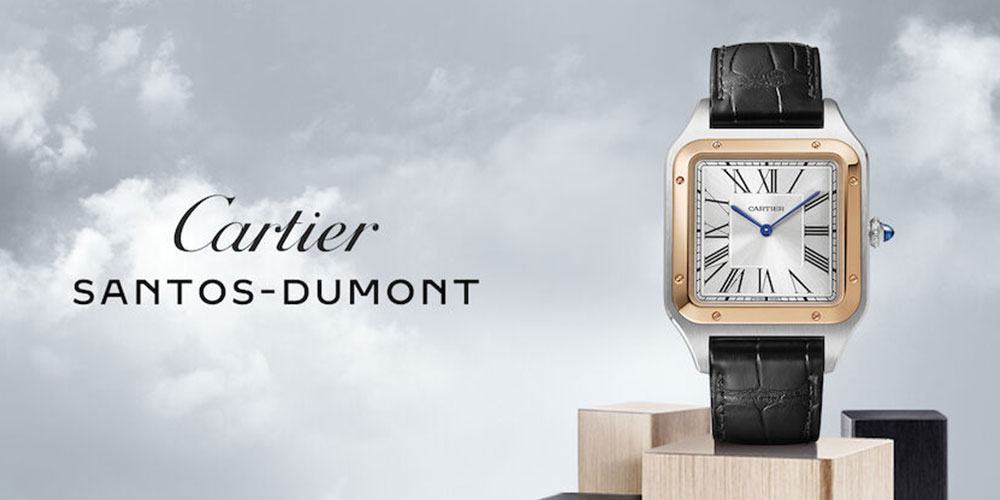 SANTOS DE CARTIER
The first modern watch meant to be worn on the wrist.
Cartier Santos
Cartier Santos: Alberto Santos Dumont, who became famous for his flights with powered airplanes in France, is a wristwatch developed by Cartier for Alberto Santos Dumont after meeting with Cartier in 1904.
It was developed by Louis Cartier by mentioning that it is impossible to read pocket watches during flight. In this way, it was produced as the world's first real men's wristwatch. Dumont demonstrated using the Cartier Santos watch on the first public demonstration flight in Europe in 1906. Cartier Santos, who gained a great reputation afterward, started mass production as of 1911.
Their Designs Are Unusual! Cartier Santos, who has a square case design icon, has an extraordinary design. Cartier Santos has integrated its designs with the screws visible in its design, and instead of hiding it, unlike the others, it has turned the screws into a design wonder. It reflects characters who like to take risks, are brave enough to reveal their flaws, and become beautiful with their courage.
Just like the first day!
Cartier Santos, whose designs are still preserved today, continues to preserve its history with small touches. While the design of Santos continued to be preserved, on the other hand, the material used in the content and the mechanism were advanced. Gold, stainless steel, titanium, ceramic and bi-color men's and women's watch options have been added to Cartier Santos' models. It is one of the most favorite models of those who can work with mechanical or quartz models.
Representative of Firsts! In addition to being the world's first men's wristwatch, the Cartier Santos also entered the literature as the first pilot's watch. Being the model, that Cartier has produced since 1904, it continues to preserve its history today as it was yesterday. Cartier Santos watches, whose designs show characteristic features, have separate collections for women and men.
It's more than it looks!
Cartier Santos has recently released models that dare to go beyond traditional aesthetics. For those who love the brand but do not find it suitable for their own taste, it has presented its new collection of different color tones.
back to top